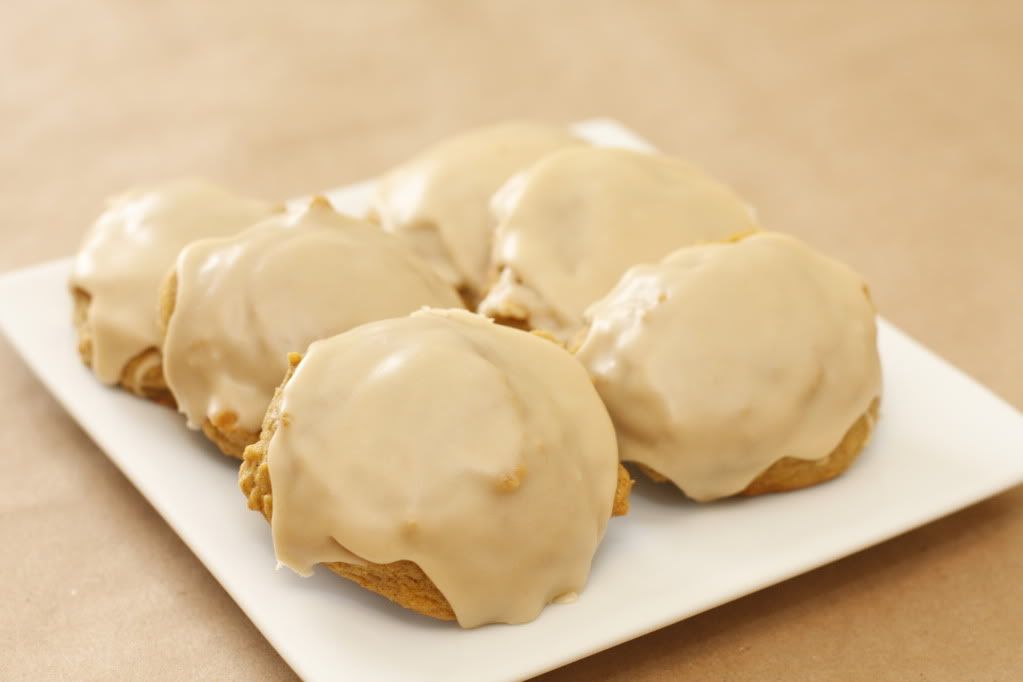 The temperature has dropped slightly around here, and with every other food blog posting up yummy pumpkin recipes already, I figured it was my turn. Yesterday I tried two new pumpkin recipes. I had to try two because the first one only called for a half a cup of pumpkin, so I just had to use the other left over cup!
The only pumpkin cookies I've made before are your basic pumpkin chocolate chocolate chip cookies. These caught my eye because they were frosted. And unlike most frosting on pumpkin treats, this wasn't cream cheese based. The frosting is caramel flavored, and it is delicious. The frosting definitely makes the cookies. I wanted my frosting to be more than just a glaze, so I added more powdered sugar than the original recipe called for. You can thicken to your liking, just don't skip it! The cookies are a moist, cake like cookie, and the recipe only calls for your basic ingredients.
I ate three of these as soon as they were frosted. And few more that night. I did manage to give some away, and there are just a few left for Brian and I to munch on. I made the mistake of storing them in a ziplock bag and the bag stuck to the frosting and pulled some of it off. I was so sad, that's the best part! But of course, I ate them anyway. I will for sure be making these a part of my must make again pumpkin goodie collection. I'm wondering if next weekend is too soon to whip up another batch! I think not.
Carmel Frosted Pumpkin Cookies

Ingredients:
Cookies
1 cup butter, softened
1/2 cup white sugar
1/2 cup brown sugar
1 cup canned pumpkin
1 egg
1 teaspoon vanilla
1 teaspoon baking soda
1 tablespoon cinnamon
1/2 teaspoon cloves
1/2 teaspoon nutmeg
1/2 teaspoon ginger
1/2 teaspoon salt
2 cups all-purpose flour
Frosting
3 tablespoons butter
1/4 cup heavy cream
1 1/2 cups confectioners' sugar
1 teaspoon vanilla
1/2 cup packed brown sugar
Pinch of salt

Directions
Preheat oven to 350 degrees. In a large bowl, cream together butter and sugars. Add eggs and vanilla and mix well. Stir in pumpkin. In a medium bowl, sift together the baking soda, cinnamon, cloves, nutmeg, ginger, salt and flour. Add to pumpkin mixture and mix well. Drop by heaping tablespoons onto a lightly greased cookie sheet. Bake for 10-12 minutes.
To make frosting: In a medium saucepan, combine butter, cream, and brown sugar over medium heat. Cook, stirring occasionally, until mixture just begins to boil; remove from heat and stir in vanilla. Cool then stir in confectioner's sugar. Spread frosting over cooled cookies.
Source:
Let's Dish