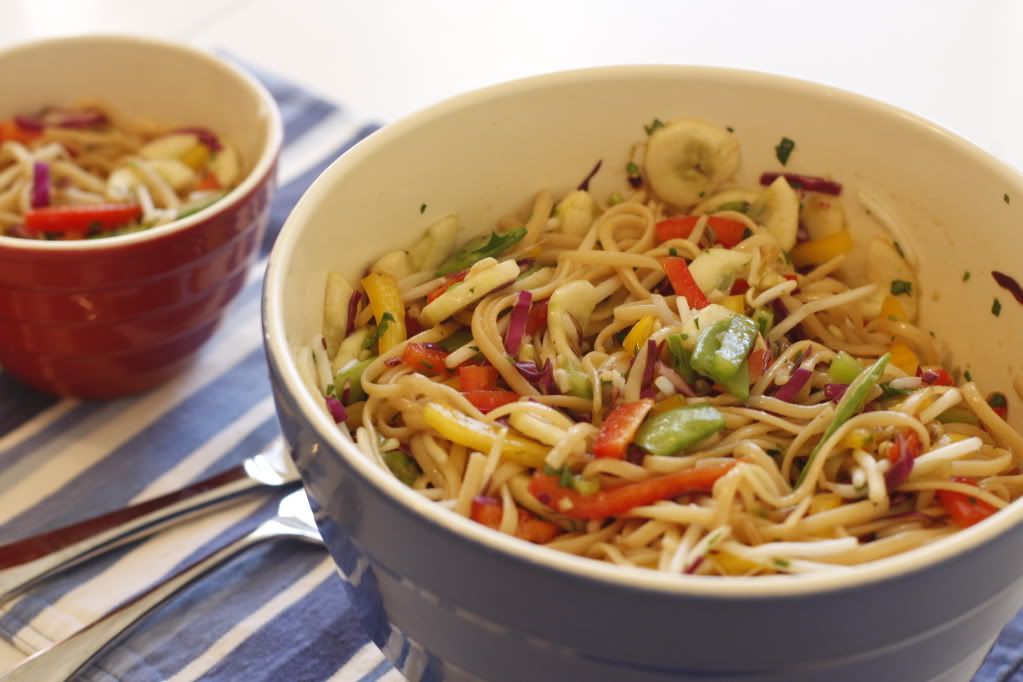 This week I went to a Summer Salad Soirée and I wanted to bring a salad that was new to me and my friends. I was feeling like maybe a pasta salad, something with noodles and vegetables. I had been wanted to make an Asian salad, I just needed to find a dressing. So I searched around and ended up using the dressing from
Pioneer Woman's
Asian Noodle Salad. I included a lot of the same vegetables as she did, but in fewer quantities. I had read a lot of her comments and everyone said the salad made a ton! I wasn't looking for quite that much so I cut back on my vegetables and left some of hers out. You could definitely add more of whatever you like and less of what you don't. There are very few vegetables I think wouldn't be good in this salad. I tried to think of the most colorful ones! My produce department didn't have orange bell peppers, so I used green instead. I cut the original dressing recipe in half because, like I said, I didn't want to make mass amounts of salad. Double what I listed below for more, but I had plenty of dressing to generously coat the salad. A quick tip on the ginger for the dressing: to peel the ginger, just scrape it with a spoon. The skin comes right off. I used my
Microplane
to grate the ginger, super easy! In the end I thought it was a delightful, light, perfect summer salad. This is the kind of salad my mom would love, so I'll have to make it for her next time she's in town! Enjoy.
Asian Noodle Salad
Salad Ingredients:
1 package Linguine Noodles, Cooked, Rinsed, And Cooled
1 cup sliced purple cabbage
1 whole red bell pepper, sliced thin
1 whole yellow bell pepper, sliced thin
1 whole green bell pepper, sliced thin
1/2 bag bean sprouts
3 whole green onions
1 whole cucumber, peeled and sliced
Handful of pea pods
1/2 bunch chopped cilantro
Dressing Ingredients:
1 whole lime, juiced
4 Tablespoons Olive Oil
4 Tablespoons Soy Sauce
1 Tablespoon Sesame Oil
1/4 cup brown sugar
1 1/2 Tablespoons fresh grated ginger
1 large clove garlic, chopped
chopped cilantro, to taste
Mix salad ingredients together. Wish dressing ingredients together and pour over salad. Mix well with tongs. Note: Dressing will keep for up to three days in fridge before serving, without cilantro.
Source: Adapted from
Pioneer Woman